Football for cultural inclusion at UEFA Super Cup
The UEFA Foundation for Children will emphasise integration through football to make our world a more tolerant and welcoming place.
The UEFA Foundation for Children will once again use this year's UEFA Super Cup match to raise awareness of important social issues, prioritising in particular the right of the child. Since it was established in 2015, the UEFA Foundation for Children has become a key presence at the UEFA Super Cup, demonstrating that football, and sport in general, has a positive impact on children and can change the outlook of even the most vulnerable.
While the UEFA Champions League title holder Manchester City FC and the UEFA Europa League winner Sevilla FC will fight for one more trophy at this year's UEFA Super Cup in Piraeus, Greece, the UEFA Foundation will carry a message of cultural inclusion and social integration.
In close collaboration with partner organisations such as Action Aid Hellas, FC Cosmos and A Ball for All, children that have been affected by societal exclusion in one way or another - from victims of global conflict to those battling physical impairments - will take part in unforgettable experiences around this year's match.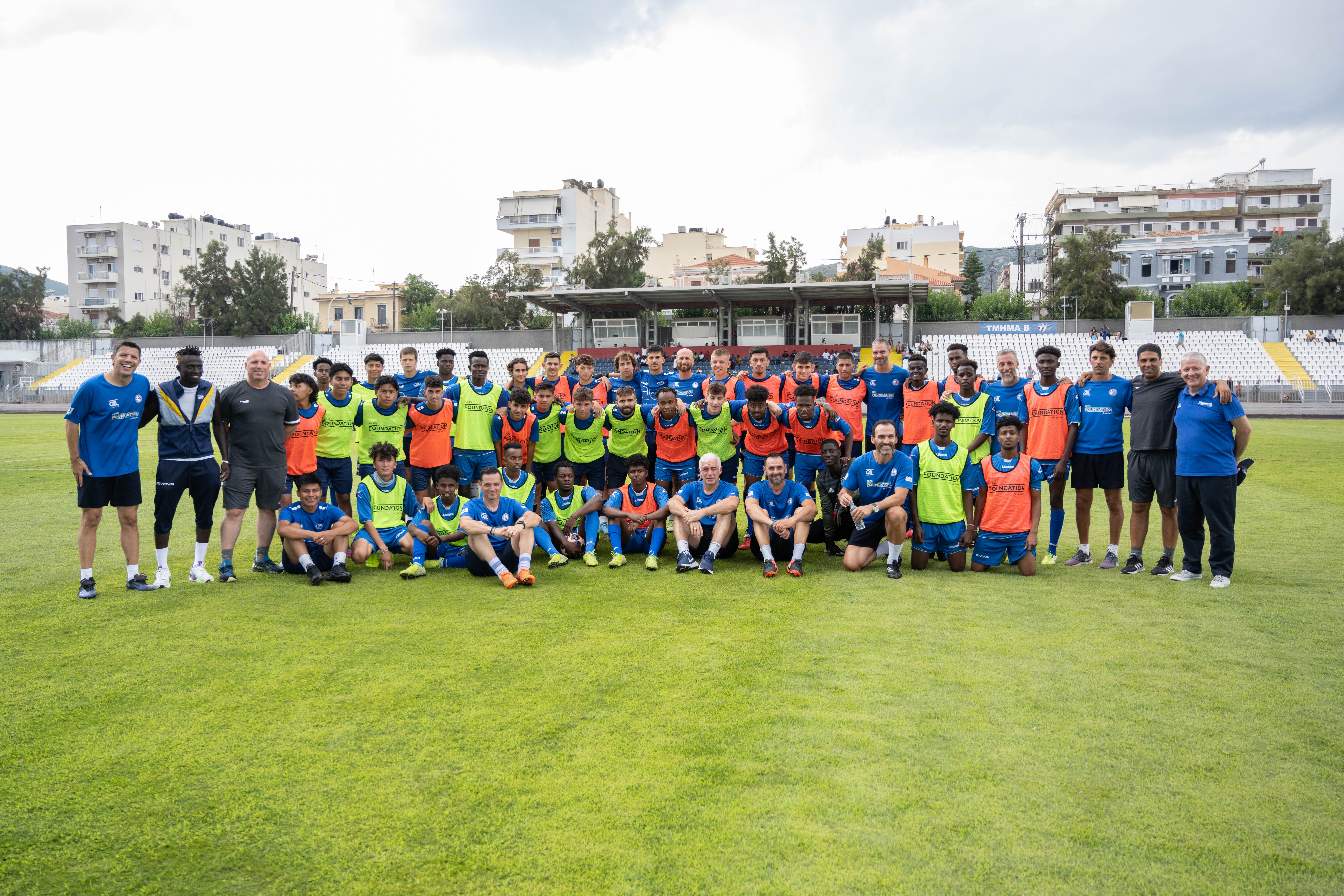 Activities around the UEFA Super Cup in Piraeus will include:
1.  On Tuesday 15 August, a selection of children will visit the Georgios Karaiskakis Stadium to watch Sevilla and Manchester City's official training sessions. They will have the opportunity to meet with players, participate in a kickabout session and take photographs with both teams.
2. At the fan festival on the Town Hall square in Piraeus, on Wednesday 16 August, children will play in a football match alongside legends from Greece's historic 2004 EURO-winning team. They will also take part in challenges and will have the opportunity to have their photos taken with the former Greek football legends and the UEFA Super Cup trophy.
3. As part of the UEFA Super Cup's opening ceremony, Mastercard will offer 16 player mascots positions to young children from Action Aid Hellas, FC Cosmos and A Ball for All who will proudly enter the pitch accompanied by the star player of the match. Older children will also play a key role in the opening ceremony, acting as central circle carriers.
These activities seek to act as a reminder of football's profound capacity to instil values such as commitment, discipline, mutual aid, respect, and tolerance. It serves as a powerful testament to the fact that football has the extraordinary ability to foster profound connections among individuals, transcending geographical and cultural barriers.
Sevilla FC midfielder Ivan Rakitić, who is playing in his third UEFA Super Cup final this year, serves as a proud ambassador for the Foundation and echoes this sentiment. Having played alongside teammates from every corner of the globe during his illustrious career, Rakitić offers a poignant reflection:
There's no room for discrimination in football or any other sport. We're all against it, players and clubs support each other, and we're trying to move towards a safe environment for everyone.