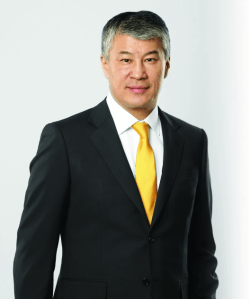 Kairat Boranbayev, born on 22 September 1966, is a Kazakh businessman and president of FC Kairat Almaty.
He graduated from the Kazakh State Institute of Physical Culture  in 1989, and began his career working as a physical education teacher. He then went on to obtain a master's in law and a doctorate in pedagogy from the Al-Farabi Kazakh National University .
From 1993 to 2000 he worked in various management positions within government and businesses in Kazakhstan.
Between 2000 and 2009 he held an equally diverse range of positions. In 2000, he was appointed executive director of KazTransGas, of which he became deputy director general for external economic relations in April 2002. Meanwhile, from 2000 to 2002, he was commercial director of Intergas Central Asia.
In 2006, he was appointed chairman of the board of KazRosGas, a business which processes  and transports natural gas sourced in Kazakhstan.
He then expanded the scope of his work by getting involved in social activities and promoting healthy lifestyles throughout Kazakhstan, as a result of which he was elected president of the Kostanai Boxing Federation in April 2009.
He became chairman of the supervisory committee of FC Kairat Almaty in 2012 and two years later was appointed CEO of the Almaly asset management company.
In 2015 Mr Boranbayev was appointed as the President of National Paralympic Committee of Kazakhstan.
Kairat Boranbayev has been the 2nd Vice-Chairman of the Fair Play and Social Responsibility Committee since July 2017, and a member of the board of trustees of the UEFA Foundation for Children since 22 November 2017.