How the UEFA Foundation for Children has helped over one million children to dream big
The 2019/20 UEFA Foundation for Children activity report shows the power of football to change children's lives despite the obstacles and adversity created by a global pandemic – from refugee camps and deprived inner-city communities to war zones in some of the world's poorest countries.
Since 2015, the UEFA Foundation for Children's pioneering campaign to use football to drive social good has improved the lives of more than one million children, across 275 projects in 109 countries. 
The 2019/20 season was unusual, to say the least. Not only did it mark the foundation's fifth anniversary, it was also a year of many challenges. During this time, the foundation's parent organisation, UEFA, expressed a clear desire to consolidate its support for the protection of children and the promotion of equal opportunities for all.
In 2019/20, the foundation's funding was distributed equally between projects in Europe and projects on other continents.
The foundation's tireless efforts to make a difference to children's lives and put smiles on young faces are showcased throughout the report in a series of real-life stories from inside and outside of Europe.
COVID-19 response
Less than 24 hours after the creation of Common Goal's COVID-19 Response Fund, the UEFA Foundation for Children became the fund's first institutional backer. In supporting the fund, the foundation's aim is to tackle the immediate effects of the pandemic on children and young people, ensuring that support continues beyond the initial emergency aid, with a focus on deprived communities and conflict settings. Since launching the fund on 8 April 2020, Common Goal has allocated the first round of funding to 27 community organisations.
Child safeguarding policy
In 2019/20 UEFA drafted a child safeguarding policy to help all European football associations better defend and protect children while they play football - a principle that underpins all the foundation's activities. An increase in our operational budget also boosted the foundation's ability to act. All these factors enable the foundation to play an important role during the health crisis that shook the world in the first half of 2020.
Listening, coordinating and adapting responses were the watchwords of the foundation's work with its various partners. By helping children and their families to overcome this crisis, the foundation was able to minimise the pandemic's economic and social impact, reduce inequalities and prevent an increase in hardship.
UEFA President: "Football is an extremely powerful tool"
"The UEFA Foundation for Children projects, help communities across the world ," said UEFA President Aleksander Čeferin, who is also the chairman of the foundation's board of trustees. "Football brings together millions of children from varying backgrounds and cultures, giving them the vital opportunities to share experiences and grow, regardless of their upbringing. Football is a very influential and powerful tool in bringing people together and undoubtedly helps children develop important life skills such as teamwork, decision making and communication."
Future Chanllenges
While many of the projects supported over the past five years have focused children's health, education and integration, , the foundation is now setting fresh objectives. Attention will also focus on victims of conflict, especially refugees, and the promotion of youth employment through football.
"I have witnessed the abundant benefits first hand having had the privileged chance to be personally involved in many UEFA Foundation for Children projects.  From refugee camps to the many suburbs of European cities to the forgotten conflict zones, all of the UEFA Foundation for Children activities have further reinforced my desire to see European football accept its role in the social progress of young citizens all over the world."
Related links
Charter of the UEFA Foundation for Children

UEFA Foundation for Children–AFDP collaboration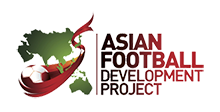 Since 2013, the AFDP and the UEFA Foundation for Children have been organising regular football training sessions and workshops at the camp for displaced persons in Syria, particularly for children, who are the most vulnerable victims of war. This long-term collaboration has given rise to many different projects that use sport, especially football, as a platform for social development. Football continues to play a pivotal role in helping refugees respond to the challenges of their displacement and the impact the conflict has had on their lives, by giving them a fun, healthy team-work based outlet, in which they can build friendships and regain a sense of normality and hope. Additionally, the UEFA Foundation for Children–AFDP collaboration has trained 287 refugees, 190 men and 97 women, to become coaches for over 6,800 Syrian youngsters, 4,150 boys and 2,650 girls. The coaches, in turn, have launched their own football league at the camp and hope to establish a football club in the near future.
PepsiCo products are enjoyed by consumers more than one billion times a day in more than 200 countries and territories around the world. PepsiCo generated more than $63 billion in net revenue in 2017, driven by a complementary food and beverage portfolio that includes Frito-Lay, Gatorade, Pepsi-Cola, Quaker and Tropicana. PepsiCo's product portfolio includes a wide range of enjoyable foods and beverages, including 22 brands that generate more than $1 billion each in estimated annual retail sales.
At the heart of PepsiCo is Performance with Purpose – the fundamental belief that the company's success is inextricably linked to the sustainability of the world around us. It believes that continuously improving the products it sells, operating responsibly to protect our planet and empowering people around the world enables PepsiCo to run a successful global company that creates long-term value for society and its shareholders. For more information, visit http://www.pepsico.com/.