A pre-match ceremony involving 1,000 children and accompanying adults will illustrate football's power to bring people together
Children from Georgia and neighbouring countries will spread messages of peace at the 2015 UEFA Super Cup in Tbilisi, thanks to a shared initiative between the Georgian Football Federation (GFF) and the UEFA Foundation for Children. Nearly 1,000 disadvantaged children from Georgia, Armenia, Azerbaijan, Belarus, Kazakhstan, Moldova, Russia, Turkey and Ukraine have been invited to the event, all with support from their national football associations.
The children will participate in the pre-match ceremony, which is inspired by the theme 'football united for peace'. The ceremony will be based around a human chain made up of the children and accompanying adults, the players – From FC Barcelona and Sevilla FC – and the referee team, symbolising how football can bring people together.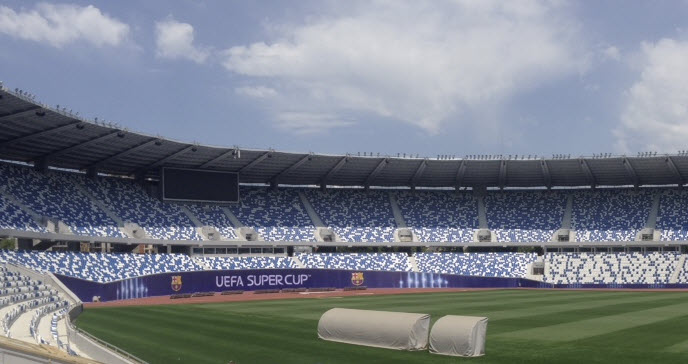 "As well as learning about elite football from the match, everyone will receive a message of peace and unity from the children – a message that is important for society," said GFF president Zviad Sichinava. "The inclusion of this message in the pre-match ceremony shows how important these core values are to UEFA – values which led to the inauguration of the UEFA Foundation for Children. I would like to thank all the participating associations for their support in working not only to invite these children but to use football's vast popularity as a stage to promote these vital values to a global audience."
"Football gives us a great opportunity to be united as a society, and to empower children through the values that it brings, and the UEFA Super Cup is no different," said UEFA President Michel Platini. "Childhood is a time when we exhibit the most extraordinary potential, and we hope that the presence of these children at this great occasion in Tbilisi can be inspirational for their futures. We would like to thank the Georgian Football Federation and its president, Zviad Sichinava, for the work undertaken with the UEFA Foundation for Children in order to make a difference to vulnerable children through this project."