"We play football to become better people – not necessarily better footballers." This is the main motto of the 'Goal Sti Ftohia' (Kick Out Poverty) project, which is operating in Greece in the midst of an unprecedented socio-economic crisis. This project brings together the poorest of the poor – people who are experiencing social exclusion at its most extreme. Homeless people, refugees and recovering drug addicts of all ages – men and women alike – get together at least once a week to play football. For these people, playing football is not about winning games; it is about winning back their lives. This is Greece's national homeless football team.
A photographer has been following the members of that team as they train together and seek to overcome their personal challenges and difficulties. He attempts to capture the players' transformation as they go from being social pariahs to community leaders. Through football, their self-belief is gradually restored and the rest of society starts to see them in a different light. They are no longer outcasts; they are now regarded as fighters – as role models.
A programme of visits to refugee camps (also supported by the UEFA Foundation for Children) elevates them yet further to the status of community leaders. The team visit refugee centres, kicking a ball around with child refugees, sending out a message of joy and hope. They have all lost their homes, albeit the Syrian refugees have lost their entire country.
The camera follows the team from their weekly training sessions at a football ground in central Athens to the Homeless World Cup in Glasgow in summer 2016. After capturing their triumphs and tribulations in Scotland, it then follows them on to various refugee camps around Greece, watching them share the joys of the beautiful game with child refugees and anyone else who wishes to join in.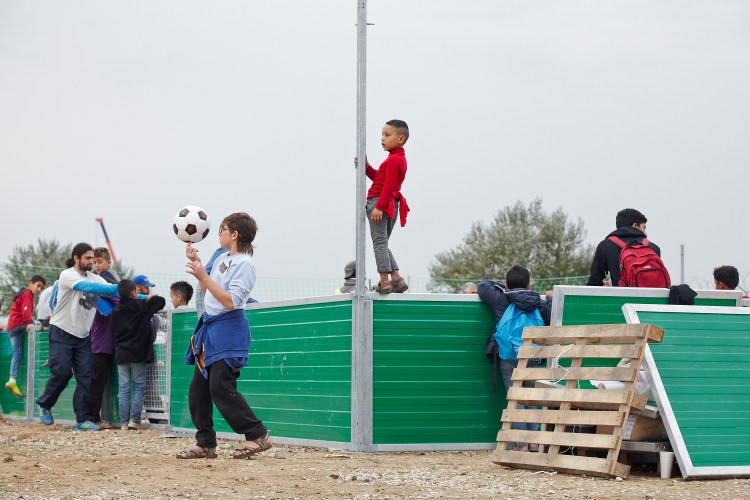 This project highlights football's tremendous power to transform lives – in this case, the lives of homeless people living in extreme poverty. Through their participation in the Greek homeless football team, they are empowered, not just becoming socially active and rebuilding their lives, but establishing themselves as community leaders, leading by example.
This project is run by the NGO Diogenes, which also publishes the Greek street paper 'Shedia'.