18 children from all over Europe help design the 2020 UEFA Super Cup match ball
18 Children's drawings from ten UEFA Foundation for Children projects will feature on a specially designed match ball for the annual meeting between the winners of the Champions League and the Europa League.
When FC Bayern Munich and Sevilla FC contest the 2020 UEFA Super Cup match on 24 September at the Puskás Aréna in Budapest, they will use a football covered with 18 different childrens' drawings.
Children from across the continent were encouraged to submit drawings showing what football meant to them in a contest organised by the UEFA Foundation for Children together with ten partner organisations. The drawings are the work of 18 children from different backgrounds from ten European organisations that work together with the UEFA Foundation for Children.
The winning drawings were selected from over 200 entries by the chairman of the foundation's board of trustees, UEFA president Aleksander Čeferin. Children from nine European countries (Czech Republic, Germany, Hungary, Lithuania, Netherlands, Portugal, Slovenia, Spain and Switzerland) will see their drawings feature on the unique match ball.
Below are some of the winning entries.
Czech Republic
Lea and Marcus showed in their drawings that football is for everyone. They play football with Fotbal Pro Rozvoj, a football programme in the Czech Republic. Lea explains the football they play: 
"The fair play football is played in three parts. In the first part, we agree on the rules. For example, when children in a wheelchair score, it counts double."
Football has taught them that everyone can be part of the game. Lea drew a person in a wheelchair with some other children – showing they can all play football together.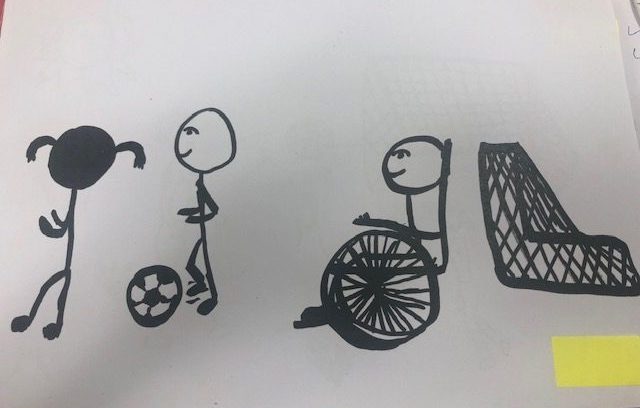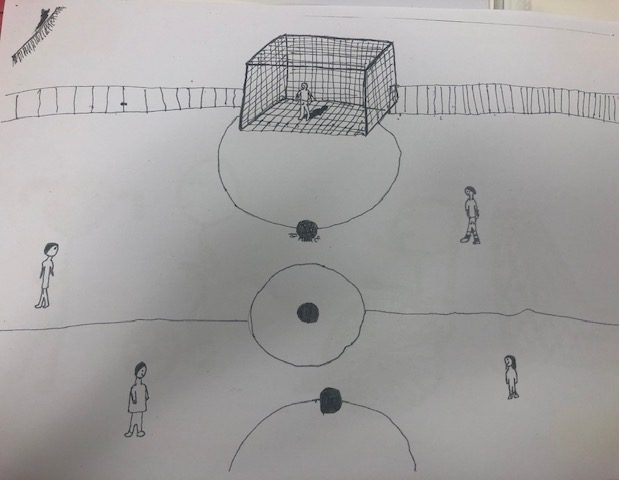 "Fair play football is for everyone, so I wanted to highlight that. And there are no limits for the people, maybe only in their heads, but if they want to play, they can play."
Marcus likes the team spirit in football. He describes their fair play football tournaments:
"We play fair, most of the time, but sometimes there are fouls, or we have arguments. But most important is teamwork and to score great goals"
Netherlands
Drawings by youngsters Mika (right) and Oscar (left), who are both from s'Hertogenbosch, will appear on the ball. They were part of the Talent Group project run by the Ruud van Nistelrooy Foundation to assist children with their personal development.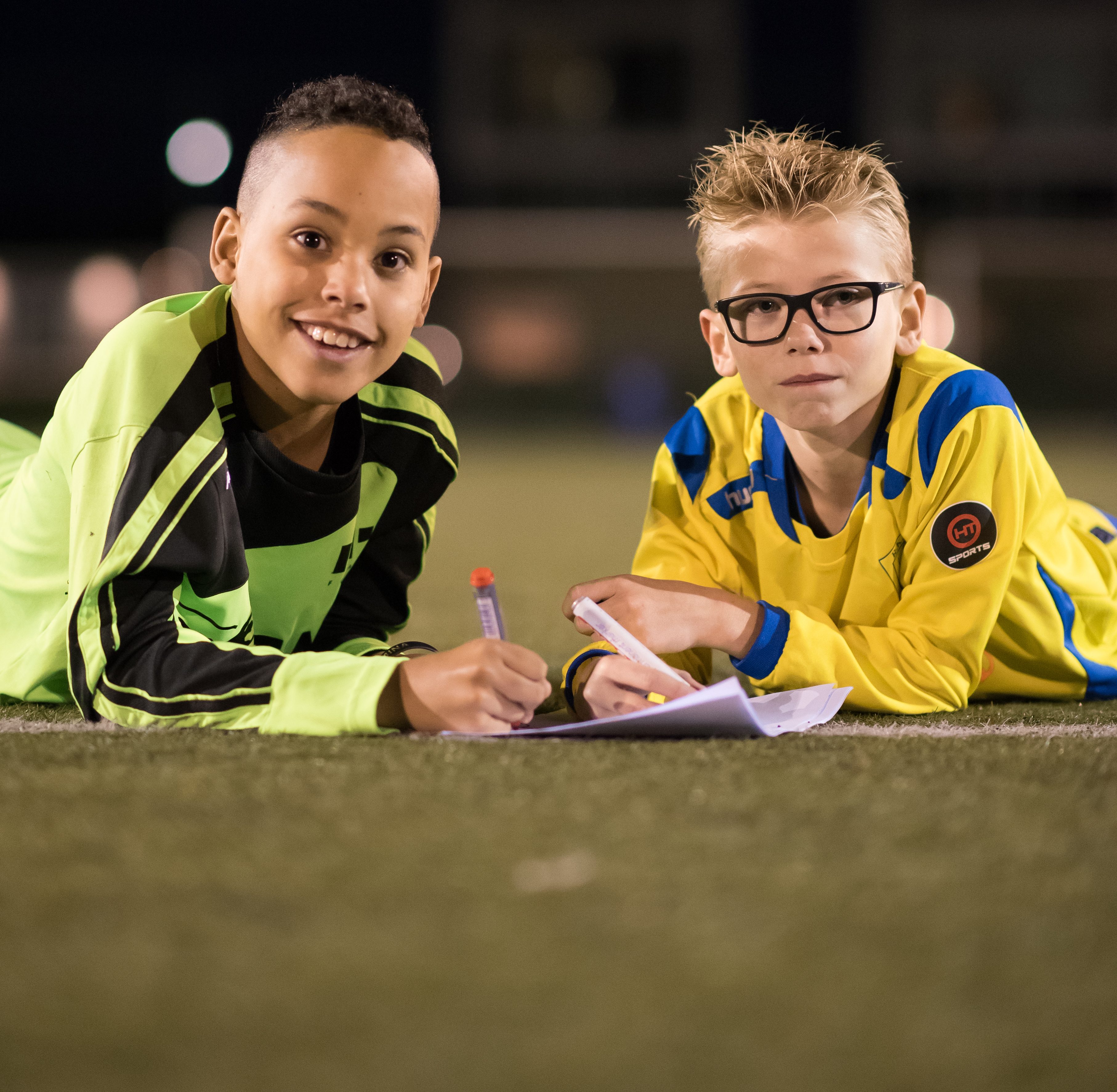 Mika: "At the foundation I had a great time and I have learned how to get better at playing football. The drawing represents a mascot who presents the trophy to the winning team. For me, football isn't always about winning but also the fun we have during the match."
Oscar: "Football has been an important part of my life for 8 years. Together with my friends winning, and sometimes also losing - they are the the best things about football!"
Portugal
Sara was a member of Brincar de Rua Ludotempo in Portugal, where children play sport in a safe environment.
"My favourite activity is playing football with my friends. For me, football is friendship and unity. I tried to show this with my drawing. It's a football field with hearts and girls holding hands."
Spain
Daniela, Yolanda and Patricia from Spain, who all take part in football training with Red Deporte, will see their drawings feature on the ball. The Red Deporte programme encourages young people from local marginalised groups to go to school to improve their academic performance. Daniela (below left) illustrates equality in her drawing:
"The message is this: we can all play football and enjoy the game equally across the world. If you are white, black, disabled, a boy or a girl, and without racist insults or without having to offend a girl because she has played badly. Respect."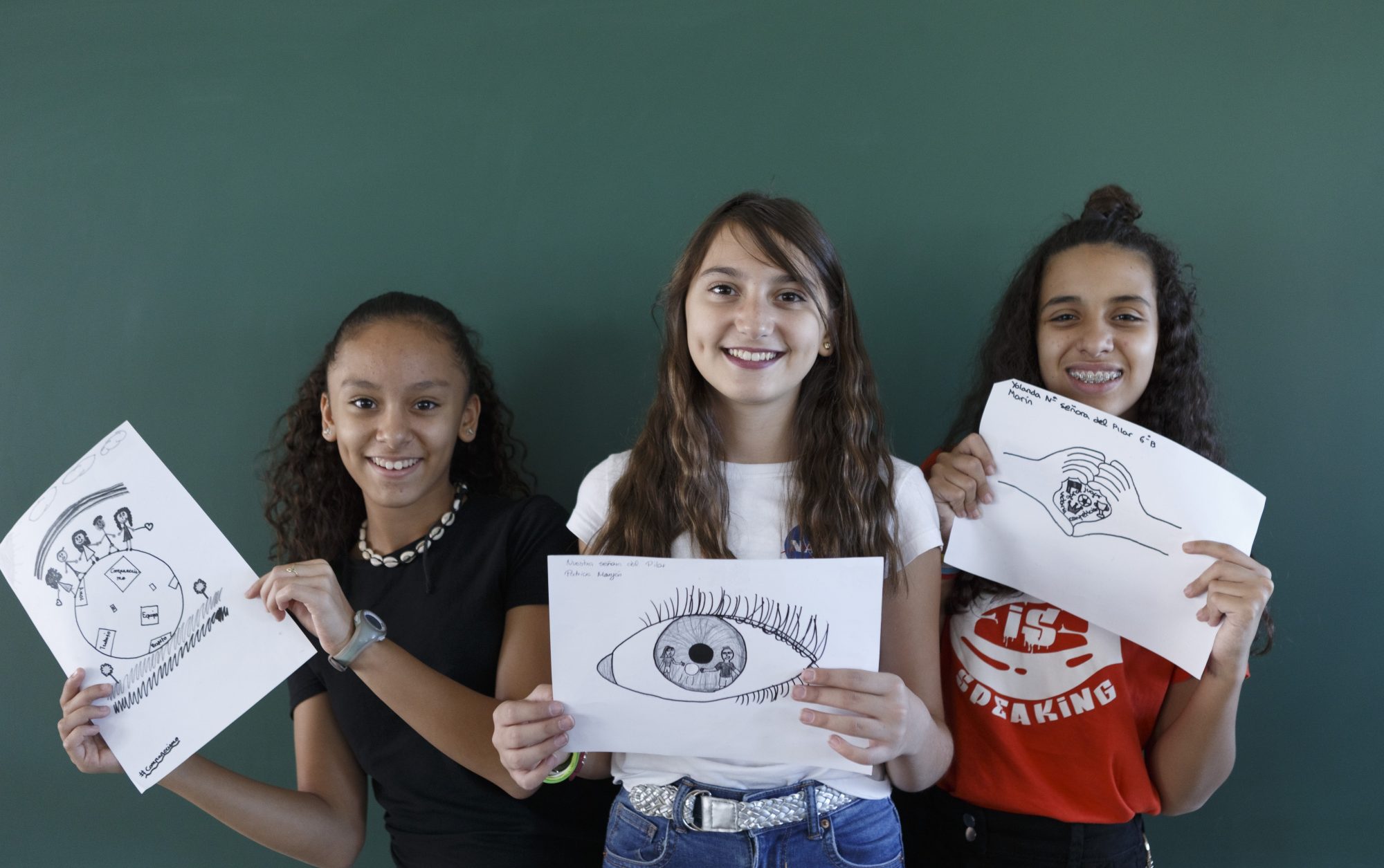 Patricia (middle) illustrates unity, no matter if you win or lose.
"With my drawing I want to say to all people that football unites everyone on an equal basis. We all have to team up to win or know how to lose."
Yolanda (right) depicts the fun side of football in her drawing:
"It is friendship that is important especially helping each other to play together. It is victory and joy. Football always entertains me. I play with my friends during break times. It is a sport to be played by many and I value everyone's effort, even if some are better than others."
Switzerland
Malcolm is a member of Autisme Genève and he joined the project 'La vie en bleu'. By participating in and organising events, and disseminating information, Autisme Genève seeks to engage with the public, inviting people to discover what autism is like.
Malcolm loves football. It helps him interact with other children. When Malcolm is not outside playing football, he loves to draw.
"I combined by passions of drawing and football with this competition. If I want to be alone, I stay at home and draw, but if I want to spend time with my friends, I go outside to play football. On the football pitch I spend the best time. Together with my friends we run, play and have fun."
Other winners from Switzerland include Mia and Fabio, who are members of PluSport, which offers sports activities for children with disabilities. Mia and Fabio play football in one of PluSport's football teams.
In their winning drawings, they show that everyone can play football, no matter who you are.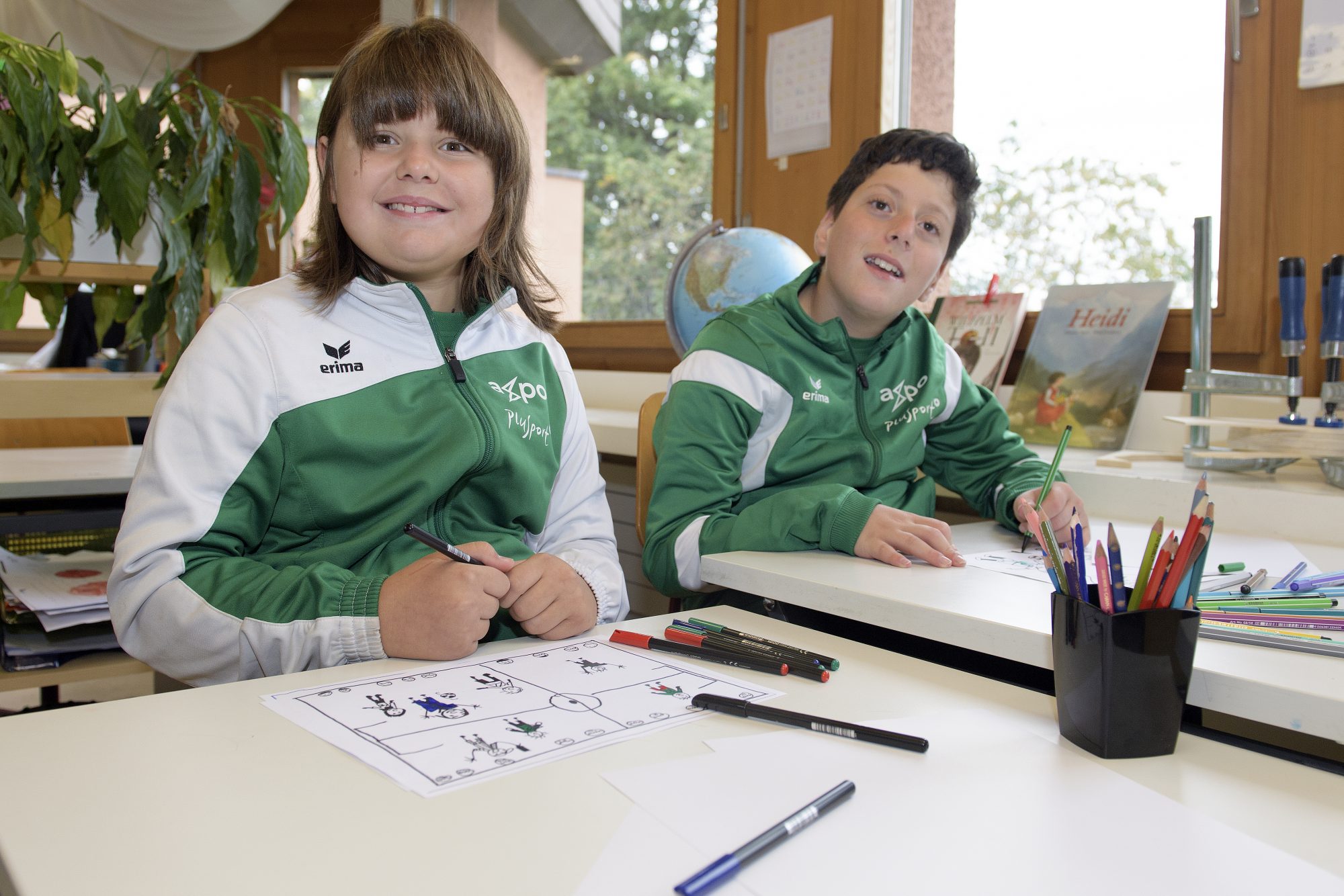 To view stories from other winning entries, visit the UEFA foundation website to see drawings from Germany, Hungary, Lithuania and Slovenia.
The UEFA president and foundation chairman, Aleksander Čeferin, is delighted with the initiative:
I'm sure the children will be thrilled to see their drawings on the Super Cup match ball and to know that stars of our game will be scoring goals with it. It was inspiring to see all the excellent drawings and hear the stories of the children. I hope that the joy they feel by seeing their artwork on the ball for such an important match will motivate them not only to play football, but also to follow their dreams.

- Aleksander Čeferin, UEFA president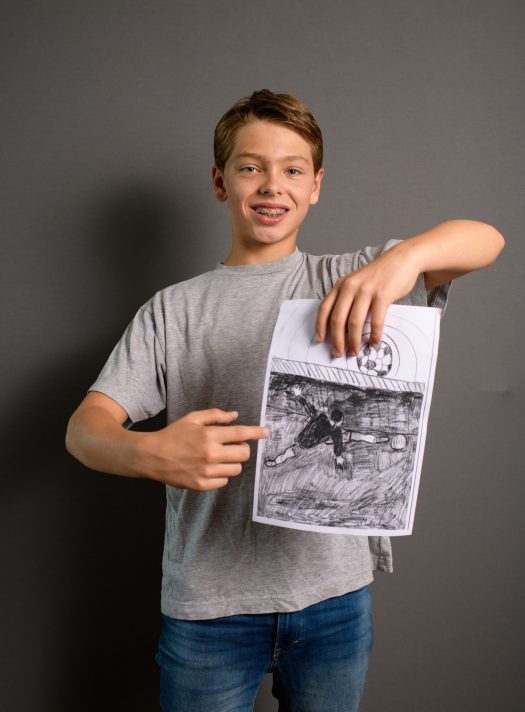 I combined by passions of drawing and football with this competition. If I want to be alone, I stay at home and draw, but if I want to spend time with my friends, I go outside to play football. On the football pitch I spend the best time. Together with my friends we run, play and have fun.

- Malcolm is a member of Autisme Genève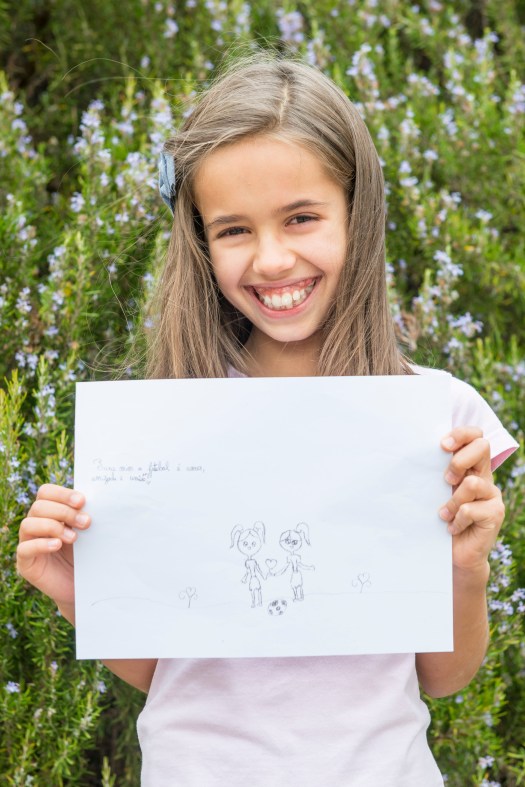 My favourite activity is playing football with my friends. For me, football is friendship and unity. I tried to show this with my drawing. It's a football field with hearts and girls holding hands."

- Sara, member of Brincar de Rua Ludotempo in Portugal