Álex Remiro shares his experience on World Mental Health Day
The Real Sociedad goalkeeper celebrates the start of the new Champions League season by putting his football know-how and leadership to use for social change.
Ahead of World Mental Health Day, we met with Álex Remiro, a new Friend of the UEFA Foundation for Children, to talk about the importance of psychological well-being at a time when more and more people, particularly children, suffer from mental health problems.
How can sport, and football, help to overcome psychological or mental illness?
I think all sports can and it's even more true with football because it's followed by a lot of people. It helps you maintain good physical health of course, but it also provides much more.
Football allows you to get to know people, it allows you to solve problems together, it allows you to learn how to be a good person in the dressing room. When you wear your club jersey, you represent a city and its values. This gives you a responsibility but also a lot of pride.
How do you prepare mentally before a game?
I try to give my best every week, Monday to Friday. Be really motivated. If everything goes well, I know I will be ready for the match without any thoughts or problems on my mind.
After each match, I relax and prepare to face the next team, learning about their strengths, their way of playing, and the players who might or might not be there. It's about knowing and being realistic about the pressure of the match.
I've been working on my mental health for nine years with my sports psychologist.
In the beginning, I didn't feel confident, I didn't want to go to training, and I didn't feel good in my club. Then my psychologist told me: "Look at it differently: it's not about problems with the club, it's not about problems with the manager, it's not about problems with your family. You should focus on what you really want. If you want to train and play, just focus on training and then you'll play."
Do you have any advice for young people who might be under pressure or harassed or who might feel like they are in a critical situation?
One piece of advice I always repeat is to be realistic and know your expectations. It's different if you play for fun than if you play professionally. Sometimes we put more pressure on ourselves than necessary. Football is a sport and sport is about having fun. Some children and families forget this.
So, the advice I would give would be to focus on training, be the best friend you can be and respect your club and your coaches. When matchday comes, the important thing is the team; the result of the match does not define your life.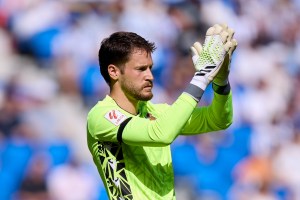 Alex's commitment to grassroots football
In March 2023, the Navarrese goalkeeper launched his own project in cooperation with the foundation's partner Fútbol Más. It aims to give children who play football and their families the knowledge and tools needed to ensure their emotional well-being, resilience and mental health.
This project involves 50 out of the 96 football clubs in Gipuzkoa, Basque Country, reaching 2,500 boys and girls and 1,250 families. The objective is to bring the rest of the clubs on board in the coming year.
"This theme is particularly close to my heart because I was very affected by insults and people who lack respect for referees, managers or players. I felt like it was a real problem. Children are not equipped to face these situations. This is what made me commit to this programme. Through a team of sports psychologists, we provide tools to help them better manage these situations. It's about protecting our children and grassroots football."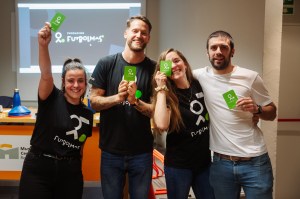 Football is about more than scoring goals
"I always liked helping children," Remiro says. "Kids follow their idols; they listen to their words. I had the opportunity to meet big players when I was young, and that inspired me to follow my path. It's very important for me to help kids have a better attitude on the pitch, at home or at school. Kids are like sponges: they take on everything, good and bad, so we must make sure we give them good things."
"UEFA's values are the same as those that I defend in my project. In sports as in life, you don't win at any cost. There are values and rules to follow, such as respect and fair play. In my project, all these values are part of the training that we offer."
We welcome Alex's excellent initiative on mental health and look forward to collaborating on more projects in the future.
I always liked helping children. Kids follow their idols; they listen to their words. I had the opportunity to meet big players when I was young, and that inspired me to follow my path. It's very important for me to help kids have a better attitude on the pitch, at home or at school. Kids are like sponges: they take on everything, good and bad, so we must make sure we give them good things."

- Álex Remiro, Friend of UEFA Foundation for Children