Location and general information
Categories

Access to Sport -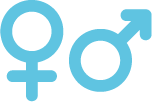 Gender Equality -

Personal development
Sports environments are often settings where discrimination against the LGBTQ+ community is magnified, whether involuntarily or voluntarily. As a result, the unparalleled power of sport to engage youngsters and create mutual understanding can be inaccessible to children and teenagers who identify as LGBTQ+ – those who need these spaces the most.
In one study, 63% of LGBTQ+-identified respondents had experienced homophobia in sports environments, and 57% said that they would be more likely to take part in sports activities if they were more LGBTQ+-friendly. LGBTQ+-identified youngsters are twice as likely to be bullied and/or physically assaulted. The continual threat for their mental and physical safety means that the majority of LGBTQ+ youth do not openly disclose their gender and sexual identities. Unfortunately, many coaches struggle to cope with the challenge of including these children and teenagers and their needs, mainly due to a lack of skills, training, and knowledge.
Play Proud is a coach-centred exchange programme with the objective of making grassroots sport more inclusive for the LGBTQ+ (lesbian, gay, bisexual, transgender, queer, etc.) community, especially children and teenagers that have previously been excluded from such programmes. The direct beneficiaries of Play Proud activities are coaches who work with community organisations around the world. These coaches engage with disadvantaged children and teenagers, offering them a safe place on the football pitch to form friendships, develop life skills, and feel a sense of acceptance.
Play Proud targets both organisation and programme levels, recommending explicit policies and sports activities that foster more inclusive processes by identifying and training coaches who will push the gender-sensitive approach forward, reaching thousands of youngsters.
This year the programme is made up of organisations from Sub-Saharan Africa, Europe and India. Two representatives from each organization will engage in virtual exchanges, a 5-day in-person residency in South Africa and a 5-day in-person residency in India, as well as receiving ongoing mentorship and support.
Play Proud can save lives. In 2020 and beyond, Play Proud will continue to pursue its objective to train more coaches using evidence-based methodology. This will enable us to strategically advance Play Proud around the world. We aim to create a global network of grassroots sports and LGBTQ+ organisations that apply the Play Proud methodology, reaching more coaches and youngsters every year.
We believe that we can make Play Proud the leading programme for LGBTQ+ inclusion in the sports sector. We will train more coaches and organisations to implement and share Play Proud so that we can continue to create a movement in local communities worldwide and ensure LGBTQ+ youth are safe, represented, and included, on and off the field.
Football coaches receive 100+ hours of training from experts in the field, take part in capacity-building workshops and virtual mentoring, and visit the sports programmes run by local organisations.
Football coaches develop action plans on the topic of LGBTQ+ inclusion in their own organisations and communities.
Football coaches run LGBTQ+-inclusive programmes for children and teenagers and work with their organisations to improve internal and external safeguarding policies.
Grassroots sports organisations improve their inclusion of LGBTQ+ youth and their internal and external safeguarding policies.
Three grassroots sports organisations in Europe and Asia join the Play Proud network.
Coaches in the participating organisations receive 100+ hours of training from experts in the field, take part in capacity-building workshops and virtual mentoring.
The project impacts the lives of over 250 disadvantaged children and teenagers in marginalised communities across Europe and Asia.