Location and general information
Categories

Access to Sport -

Conflict victims -

Personal development
Over 45% of the refugees and migrants who arrived in Greece in 2019 landed on the Greek island of Lesbos, which is separated from Turkey by a 10km channel and is home to 88,000 people. In winter, incidents at sea are an almost daily occurrence. Many lives are lost as a result of shipwrecks off the coast of Lesbos.
The increasing influx of arrivals has put extreme pressure on the island, where there are more than 40,000 refugees and migrants, despite the official reception capacity being limited to 2,800. Some 18,000 are staying in Mória (capacity of 2,300) and 2,500 in Kara Tepe. There is no longer space in these official reception and registration sites, so makeshift shelters have been built in a rubbish-filled olive grove around the camp.
The number of refugees and migrants on the islands is extremely high and there is a severe lack of adequate shelter, sanitation and site management, which exposes refugees and migrants to severe risks. The majority of refugees and migrants are families and a third of the population are children, most below the age of 12. Thousands of women, men and children are currently living in small tents, exposed to cold and rain with little or no access to heating, electricity or hot water.
Hygiene and sanitation conditions are unsafe. On top of that, registration backlogs in Mória and Kara Tepe and the overcrowding of reception facilities have led to tensions among refugee groups and between refugees and the police. Towards the end of 2019, local communities also started protesting and demanding urgent action to alleviate the pressure on the island. Friction is growing between local people and asylum seekers landing in boats from Turkey. Anti-immigrant sentiment has increased with non-governmental organisations also being targeted.
https://uefafoundation.org/wp-content/uploads/2020/05/cosmos-fc-minors-year-2020-5fce51c762a86.mp4
The Live Together project is made up of three sub-projects

Cost of the sub-project

: €119,000

Foundation funding

: €119,000
Partners: Aiolikos FC and Cosmos FC
Context
Cosmos FC, a refugees' football club, was founded in September 2016 on the initiative of a Lesbos native and ex-footballer who saw the potential for sports to alleviate the tensions caused by the refugee crisis on the island. Football can be more than just a game. Since 2016, the club has involved over 400 adults and minors – including girls, and regardless of religion and race – from 17 different countries.
Over the last two and a half years, Cosmos FC has been a sanctuary for people arriving on Lesbos (the island with the largest refugee population in Greece) on their way to the so-called 'promised land'. Regular training and friendly matches against local clubs provide people with a sense of normality. At the same time, the club has gained the appreciation and respect of the local population of Lesbos.
In January 2019, Francis Kalombo, a 15-year-old Congolese boy and member of Cosmos FC became the first refugee to obtain an official licence to play in a European club, Aiolikos FC. His story instantly went viral, spreading throughout Greece and beyond and helping locals and refugees together raise awareness about refugees' limited or non-existent access to sport. Subsequently, the Greek parliament passed legislation granting the right to participate in the amateur league and amateur cup matches not only to recognised refugees, but also to asylum-seekers, stateless persons and migrants who have a residence permit or have applied for a residence permit.
Project content

With the Two teams, one world project, Aiolikos FC and Cosmos FC are working together with the UEFA foundation to support more young refugees, including unaccompanied minors, teenagers and young adults.
The project will give 250 to 300 unaccompanied minors and other refugees aged 13 to 18 the opportunity to learn more about football through regular training. Regular exercise will help improve their physical and mental health, and football, as a team sport, will help them gain a sense of belonging, learn about teamwork and improve their self-confidence.
Friendly matches with local clubs will be combined with educational field trips to teach refugees about Greek and European societies and lifestyles, with a view to helping them adapt and integrate more easily. Refugees and Greek people from all backgrounds will play together, regardless of politics, religion or ethnicity, thus bridging possible divides between refugees and locals and creating the ideal opportunity to get to know one another.
An annual tournament (Cosmos Cup) will also be organised, involving either national or local clubs depending on the funding available, with the aim of combatting social exclusion and negative perceptions about refugees in society.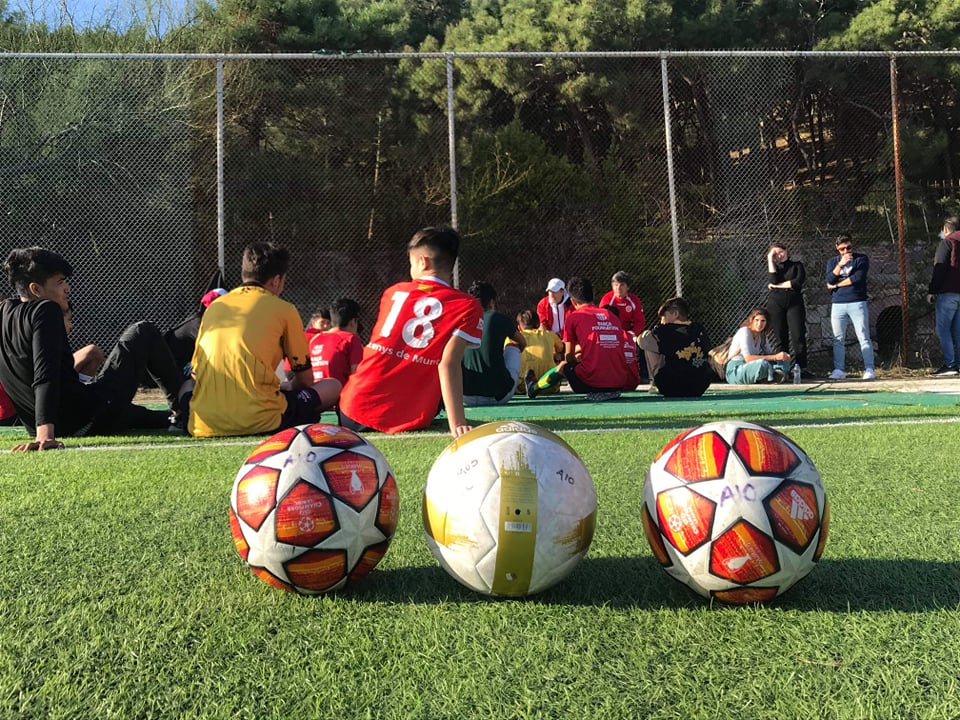 Objectives
Improve refugees' living conditions and securing their fundamental right to personal development through sports and social interaction
Build a stable environment in which young refugees can overcome psychological disorders and build self-confidence
Cultivate a spirit of teamwork and solidarity
Integrate refugees into a European society and mainstream football
Reach female refugees, most of whom did not have the chance to play football or any other sport in their country of origin, because of the cultural and/or religious context
Combat social exclusion and negative sentiments about refugees in society
Use regular training and tournaments to create opportunities for refugees and locals to play together
Act as a pilot programme, raising awareness and encouraging and supporting other clubs to launch similar programmes, particularly on the other North Aegean islands (Samos, Chíos) that accommodate large number of refugees
Project activities
Knowledge-sharing between Cosmos FC and Aiolikos FC, the only professional football club on Lesbos
Regular football training for 300 unaccompanied minors and teenage refugees aged 13 to 18
Educational field trips combined with friendly games with local teams
Cosmos Cup tournament
Encouraging other clubs and refugee camps to launch similar projects, especially on the other North Aegean islands (Samos, Chíos), which also accommodate a large number of refugees
Expected results
Regular football training held for at least 300 unaccompanied minors and teenage refugees aged 13 to 18
One annual Cosmos Cup tournament
At least four educational field trips combined with friendly games with local teams each year
Increased participation of girls
Development of similar programmes at other football clubs
2) FutbolNet: Sports, life skills and values for unaccompanied refugee minors

Cost of the sub-project

: €167,500

Foundation funding

: €45,400

Partners

: the Barça Foundation, Movement on the Ground and Iliaktida
Context
In the context of refugees, unaccompanied minors are children and young people under the age of 18 who make the journey to Europe without family or social support networks. In 2019, there were an estimated 21,000 refugee children in Greek reception and identification centres and accommodation sites, of whom an estimated 3,500 were unaccompanied minors. These children languish in reception and identification centres, protective custody or detention, in shelters for unaccompanied minors or on the waiting list for a shelter. They face a unique set of challenges and are considered to be the most vulnerable of all refugees.
This FutbolNet project proposes to work with unaccompanied minors on the Greek island of Lesbos.
Project content
With support from the UEFA foundation, the Barça Foundation will provide a year-long, socio-educational sports programme for unaccompanied refugee minors on the island of Lesbos. The aim of the programme is to create safe spaces to improve the physical and emotional well-being of unaccompanied minors, as well as fostering their social interaction and inclusion. At the heart of the programme is the FutbolNet curriculum, which imparts the FC Barcelona values and life skills through sports and cooperative games.
This project builds on an existing project through which Movement on the Ground provides daily FutbolNet training to children from the Kara Tepe refugee camp and a local school. The UEFA foundation will support Movement on the Ground to enrol 150 unaccompanied minors from Mória in its programme. The UEFA foundation will also support a new NGO, Iliaktida, to start delivering the FutbolNet programme to 45 unaccompanied minors from their centres. To this end, 40 Greek and refugee coaches and educators will be trained in the methodology to equip them with the knowledge, skills and tools to deliver the full curriculum.
Objectives
Create safe and appropriate spaces for 195 unaccompanied minors to learn, play and exchange experiences
Improve the physical and emotional well-being of unaccompanied minors, through improved confidence and self-esteem, and reduced fear and stress
Foster positive social interactions and social inclusion among unaccompanied minors
Project activities
FutbolNet training seminars with Movement on the Ground and Iliaktida staff and volunteers to equip them with the knowledge, skills and tools to deliver the FutbolNet methodology
FutbolNet programme delivered to unaccompanied minors from Mória at Spanos Academy (Movement on the Ground)
FutbolNet programme delivered to unaccompanied minors residing in Iliaktida shelters in Mytilíni and at Spanos Academy (Iliaktida)
Expected results
Safe, accessible and regularly available spaces to learn, play and exchange
Strengthened capacity of staff and coaches working with unaccompanied minors
Communication skills, self-esteem, confidence and values learnt and developed by unaccompanied minors
Unaccompanied minors participate and feel comfortable in their communities
3) Support for schools: refurbishment of sport facilities
Cost of the sub-project

: €73,000
Foundation funding: €73,000
Partners: United Nations High Commissioner for Refugees (UNHCR)
 The UEFA Foundation for Children has also decided to support the host country, which is overstretched by the situation, and to support its schools by:
providing sports equipment and other materials for football and other activities, including balls, bibs, cones, whistles, stopwatches, pumps and foldable goals.
restoring sport facilities, offering reliable infrastructure and safe facilities for children to play in.
The schools targeted by this last component of the project are primary schools hosting local and refugee children, in order to help build social cohesion among the youngsters.