Location and general information
Categories

Conflict victims -

Infrastructure and equipment -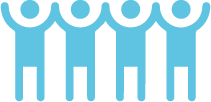 Strengthening partnerships
According to the UN and the Prosecutor General's Office, 6,755 civilians have died in Ukraine since the beginning of the war, including 424 children. This number is constantly increasing due to daily rocket and artillery attacks on civilian objects by Russian forces. A large proportion of deaths are a result of the delayed or insufficient provision of first aid. According to research, up to 54% of injured individuals could be saved by relatively simple actions such as stopping bleeding. We work specifically with teachers, since they spend a significant amount of time with children throughout the day but only a small percentage of them know first aid.
Create a safe school environment
Train teachers and students in first aid and safety during a war
Provide schools with first-aid kits
Promote awareness in society of the importance of those who work with children being able to administer pre-medical care
Thirty two-day training courses delivered in general education and sports schools over three months. Thirty participants from 100 schools will take part in each training course. During the project, we will educate 900 teachers and coaches in first aid.
Provision of first aid-kits to 100 schools.
Certificates of completion for all participants of the first aid course, who will have acquired the skills to deliver pre-medical care classes to school students.