Location and general information
Categories

Access to Sport -

Children with disabilities -

Personal development
There is a challenge globally to include pupils with visual impairment in physical education (PE) in general primary schools. There is generally only one type of PE class for all pupils and there are limited inclusive sports tools. As a result, pupils with visual impairment do not participate in PE at the same level as their sighted classmates. This project meets this global need and provides a sustainable solution. It supports children's right to education and their right to play as well as Sustainable Development Goals 4 (quality education) and 10 (reduced inequality).
Youthorama's founder invented an innovative lightweight sound ball. The unique mini ball for all children is not for sale – it is only donated. In Greece, an educational programme using the mini ball was approved by the ministry of education for all schools – both general and special – and all grades. This project aims to establish a network of schools across the world that will promote inclusive sports through this new educational package.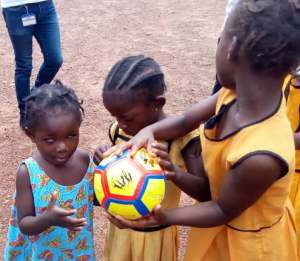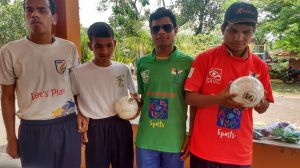 Sierra Leon                                                              India
Produce and donate up to 2,000 mini blind footballs for children
Create a more inclusive society through the use of these balls as a non-formal learning tool
Educate mainstream nursery and primary schools, NGOs and public structures on inclusive sport
Create a manual of up to 40 good practices
Launch an Adopt a Ball pilot initiative for schools to raise awareness of sports for all
Establish an Inclusive Football Network across the world (currently spanning 172 countries)
Donation of the innovative mini blind footballs – the only ones available on a global level and not for sale – to children in need and their schools across 5 continents
Designing an inclusive educational package
Delivering up to 200 sports workshops in general and special nursery and primary schools to promote personal development, empathy and inclusion
Evaluation of the project's success in achieving its aims
Launching the Adopt a Ball campaign and promoting open four-a-side events
100 schools in disadvantaged areas across the network delivering the educational programme
25,000 sighted and visually impaired pupils in mixed classes
500 schools registered in the Adopt a Ball network
2,500 questionnaires
500 PE teachers and volunteers using the accessible e-learning platform
3,000 participants in the open four-a-side events
2,000 mini blind footballs donated
1 social message documentary for TV
Our vision is for the ball to be heard in every visually impaired child's home and school around the world!